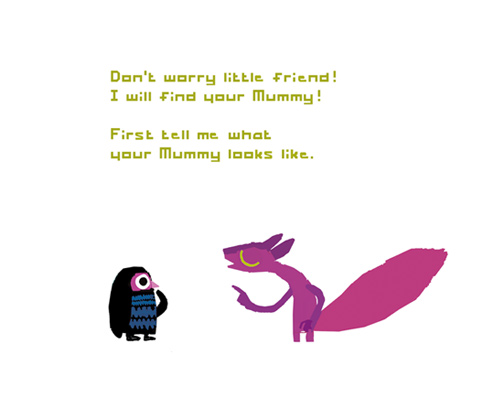 The 2011 Bisto Award, the biggest prize in Irish children's books, has been won, interestingly, for the second year in a row, by a picture book: Chris Haughton's A Bit Lost.  The top prize is open to children's books by an Irish author of any age or format. (Last year the ward was won by my wife , Marie-Louise Fitzpatrick (for the 2nd time!) for her picture book There.)
It's Chris's first attempt at a children's book. And not surprisingly, he also won the Bisto award this year for best first book. The book wa
s originally published in Korea, with, as Chris said at the award ceremony, complete artistic freedom. It's not possible for that to happen in the west, even at Walker Books/Candlewick Press. I'm sorry but that's the truth. There is far more fear of failure, far more of a sense that an editor or art director, no matter how much experience they have, must know more that the artist/writer about their own book. This is not to say everyone has something to say and sometimes they are right. But I worryin the economic climate, and even before, about creative expression being squashed in the name of commerce and children receiving ever increasingly homogenized books. As so often happens if a book slips past the radar of editorial "correction" it is often praised for it's "originality", or "fresh voice". Must this always happen by accident?
Congratulations Chris. A really lovely book. And something I almost never say – Great digital art. Really shows what a computer can do in the hands of someone who knows what they're doing. Walker is doing his next book. I hope, and I say this with the best possible intentions, and their hands off it.
All Artwork and text in art © 2010 Chris Haughten.